The cozy Vojnic-Artatore house was built in 1972. In the beginning, during the first ten years, new founded Artatore village wasn't blessed with water and electricity, and reaching the house was difficult by a macadam road. Nevertheless a young couple, Dunja and Goran (both now retired) wanted to build a house there to enjoy their holidays in the Mediterranean spirit. Commercial use of the house started in 2003, when a side apartment for Dunja and Goran was build. From season 2013 the haus has been equipped with air conditioning unit.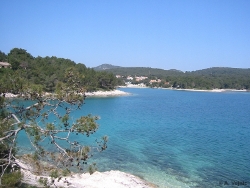 House is ideal for four persons, it is located in a quiet cul-de-sac, just 50m from the nearest beach. It consists of spacious living room with an exit to the terrace, two bedrooms connected with a hallway, one bedroom with double bed and the second bedroom with two single beds, bathroom is located between bedrooms, kitchen connected to the living room and a terrace. Altogether, those 60m2 are meant to provide a comfortable holidays in peaceful and beautiful Artatore bay.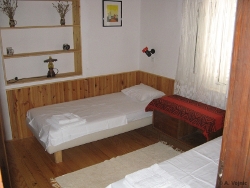 The house has a large terrace (20 m2), bathed with beautiful morning sun ideal for a breakfast in the open or just peaceful relaxation in the easy-chair. As the day evolves, sun and the breeze caress the trees in the garden making them play a never ending game of shadows and light providing a peaceful place to enjoy a refreshing drink over a conversation or a good book.
By the terrace there is a small but beautiful Mediterranean garden with wild-grown vegetation and the star exhibit is the olive tree which is (much) older than the house itself.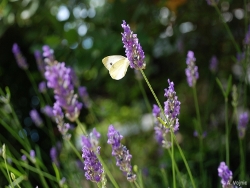 Beautiful beaches are nearby, nearest is just 50 meters from the house. With a number of beaches within the walking distance, position of the house provides a perfect holidays for people who are fed up with day to day commuting and waiting stuck in traffic jams. For those who want to explore beautiful Islands of Losinj and Cres there are plenty of places to visit, hidden away beaches to discover and people to meet.
Additional benefits at your disposal include sat TV, parking space (fenced, by the side of the house), outdoor shower and the grill. Pets are welcome.

For questions and reservations please contact Goran Vojnic at:
govojnic@gmail.com
Tel: +385.91.2350.444

Additional information about Losinj Island, Climate, Flora and Fauna, History, Foot-walks etc can be found on www.tz-malilosinj.hr.
| | |
| --- | --- |
| Contact: govojnic@gmail.com, tel: +385.91.2350.444 | Author: Igor and Ana Vojnic; Copyright: www.vojnic.net |